Digital Signage In Education Institutions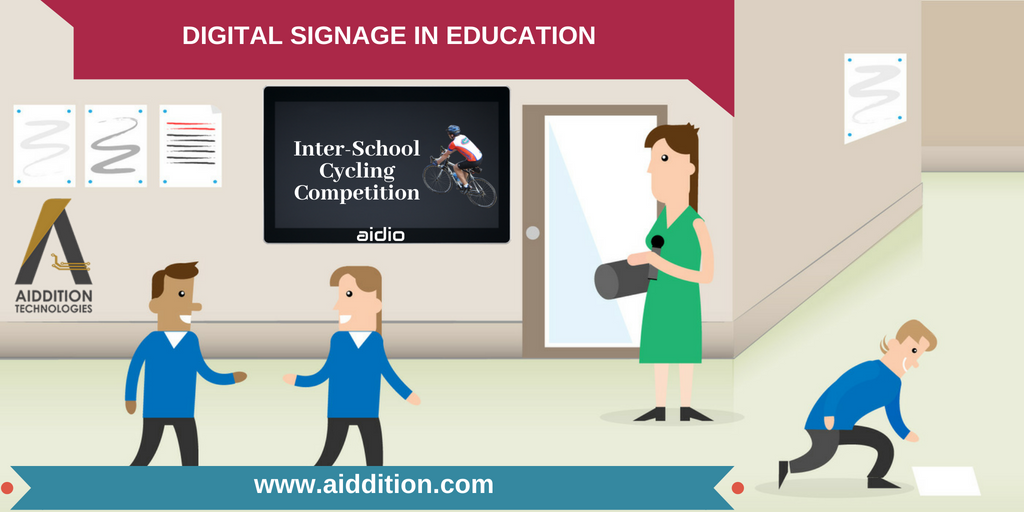 Digital Signage in Education is a new revolutionary change. The digital era brings complete transformation in education sector and adds whole new level of learning the things and understanding them even better. Education has changed rapidly in the way content is delivered to the students with teachers and educationists embracing technology to deliver the goods.
These days Digital Signage is playing important role in educational institutes from primary level to university level. With Universities, Schools and Colleges going tech savvy, Digital signage in various forms are fastly occupying strategic positions in educational sector.
Why Digital Signage in Education ?
Digital Signage in Education brings out most innovative of learning the things. It even boosts the institute image. You can add all your digital contents anywhere from the world with ease using aidio Digital Signage Software. Advertising your content is so much amazing with Digital Signage displays. It gives more professional look to the institute also attracts the viewers.
Any educational institute can utilize Digital Signage in following three forms to strategically improve their position in highly competitive market.
Interactive Touch Displays in Class Rooms
Teachers using overhead projectors was common trend till recently, But many teachers are still more innovative by using Interactive Touch Displays that act as modern white boards. Interactive Touch Displays adds more beauty to the classrooms. Also helps students to learn the things quickly.
LCD Video Walls at Auditoriums
Any event happening at college or school premises can be constantly showcased on LCD Video Walls available in the premises.It gives a rich experience for the audience about the events.
Android Advertising Displays at Front office and office communication
Android Advertising Displays can act as Information dissemination system among the employees and also as bulletin board for visitors and students so that dynamically updated content is available at finger tips for all the stake holders of the institute
All modern day educational institutes need Digital Signage in one or the other form. We from Aiddition Technology are well equipped to cater these needs with our innovative aidio Digital Signage Displays.
College Digital Signage Education Home Depot Interactive Display Interactive Signage Ministry of Education Retail School University